Spa Website Template for Elementor
FREE for All-inclusive set owners
Multi-step appointment booking forms
Provider/Service Singles and Catalogs
Dynamic content tuned and ready
WooCommerce integration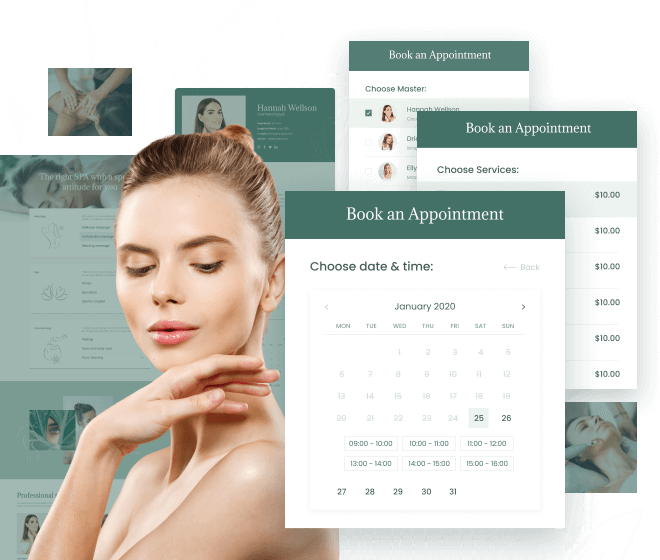 What's on the Menu
Treatment &
Therapist Singles
Treatment &
Therapist Catalogs
Appointment
Functionality
Appointment
Core Setup
All Plugins'
Benefits
Treatment & Therapist Singles
All single pages for your beauty spa website are tuned and good to go.
Keep calm and construct singles with our Template Builder.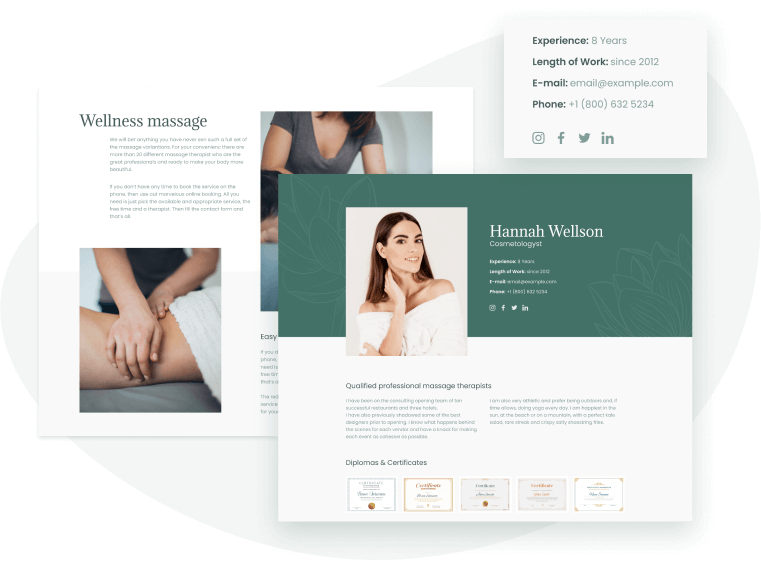 Single post templates
You can adjust the pre-set parameters and apply them to all pages easily. The attributes will be automatically pulled out from the admin panel.
Custom fields
All the vital meta boxes for spa center webpages are tuned to work properly.
Custom Post Types
Inside, you'll find the pre-made custom post types for treatments and therapists. Feel free to expand and categorize your website pages the way you like.
Treatment & Therapist Catalogs
Design a responsive frontend architecture for available treatments and therapists.
JetEngine covers dynamic meta and different layouts.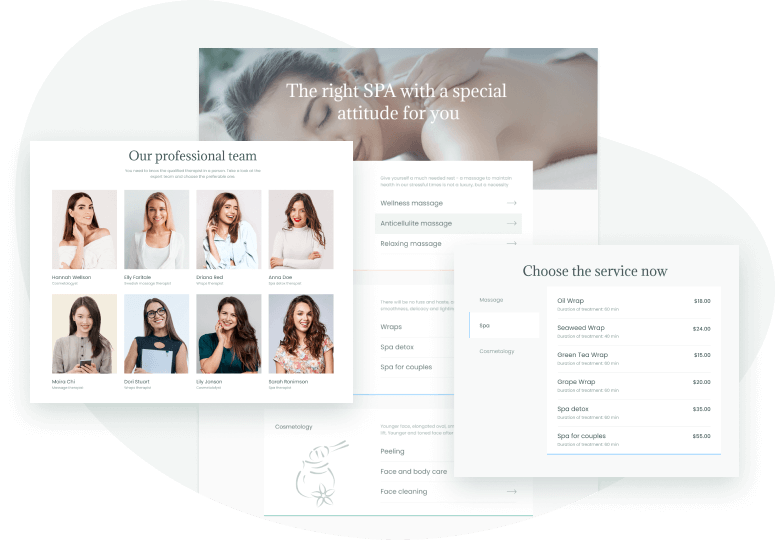 Archive templates
Customize the included templates for spa specialists and services pages to your liking. Apply the ready-made Header & Footer, share socials, add a newsletter section, and more.
Taxonomy
All parameters for the advertised treatments and therapists are set on the backend and can be displayed in the front by means of Dynamic widgets.
Listing Grids & Layouts
We packed the Listing Grids for "Our Team" and "Our Treatments." Feel welcome to form new content categories and pick any layouts to display them.
Appointment Functionality
We're here to help you implement a comfy appointment booking routine every client will appreciate.
JetAppointment covers multi-step booking forms.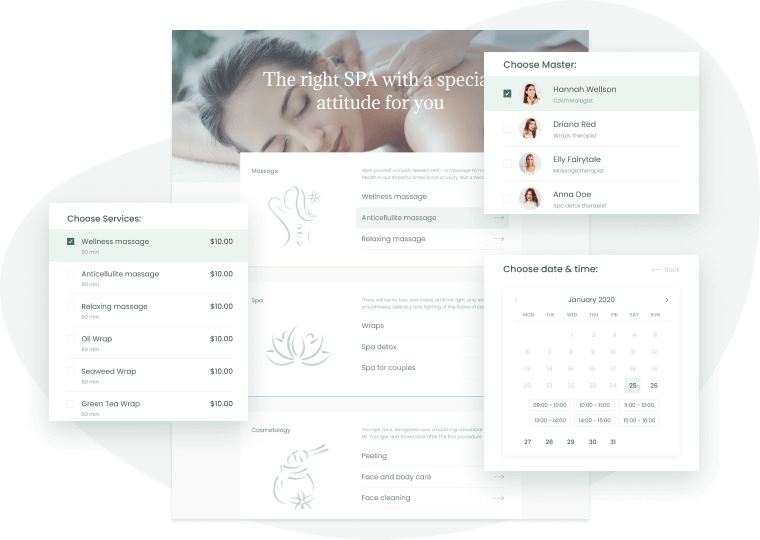 Multi-step forms
Thanks to the page breakers feature, you'll divide the Form into a sequence of easy-to-grasp steps.
Custom field templates
Adjust the way advertised therapists and treatments look in the front using custom templates for the Provider and Service fields.
Single-page booking
Except for the home page, your clients will be able to schedule appointments from Provider and Service single pages.
Appointment layouts
Output the vital appointment details using the joint action of the Listing Grid and Dynamic Field widgets.
Appointment Core Setup
Carefully vetted booking choices for you to deliver the ultimate user experience.
JetAppointment ensures a customer-oriented booking.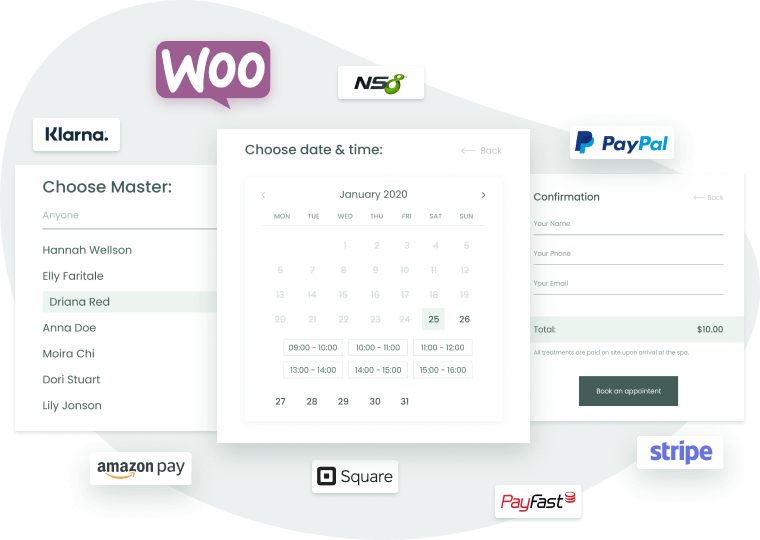 WooCommerce integration
Numerous WooCommerce modules are integrated. Tap into their potential and automate the payment solutions with no sweat.
Wizard setup
A guided Wizard will help you set up the schedule, add fields to the forms, and customize Providers & Services fast and easy.
12 custom field types
Mix and match the available filed types to gain more information about each scheduled appointment.
Ready-to-use schedule
Find inside the preset business hours, days off, holidays, and buffer time before/after the treatment.
Why Crocoblock & Dynamic Templates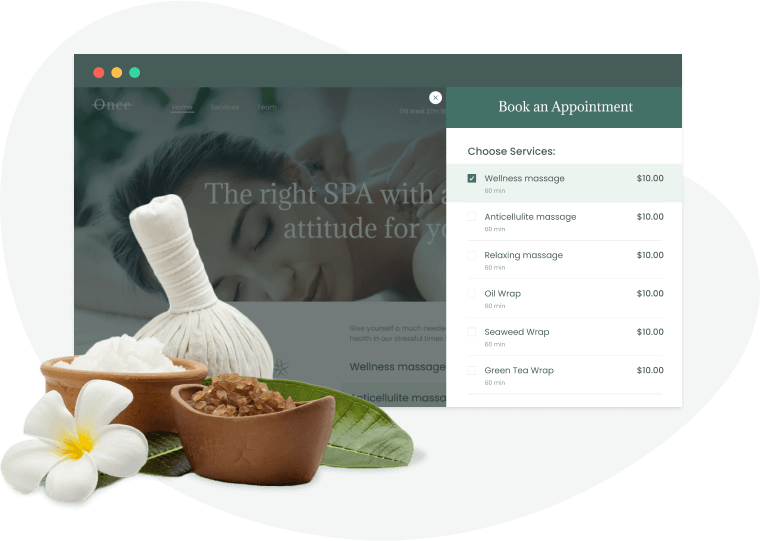 Creating a dynamic website template, it's easy to overdo. Tons of skins, pages, plugins that might come into play someday. It can backfire, though, causing website slowdown and setup issues. That's why less is always more.
Inside this spa website template, you won't find anything to remove. It is duly packed for you to rush into the development journey right away.
Choose Subscription
30 days money-back guarantee
1 project

1-year

product updates

1-year

of zoom & chat support

JetPlugins

JetFormBuilder PRO

Dynamic Templates
Checkout
Unlimited projects

1-year

product updates

1-year

of zoom & chat support

JetPlugins

JetFormBuilder PRO

Dynamic Templates
Checkout
Unlimited projects

Lifetime

product updates

Lifetime

zoom & chat support

JetPlugins

JetFormBuilder PRO

Dynamic Templates
Checkout
For more details on the Subscription proceed to the Pricing page
Already Got Crocoblock All-Inclusive?
Download Wizard from
your account
Install and activate the plugin
Follow Wizard's instructions
Enjoy powerful templates
Frequently Asked Questions
Depending on the subscription type you've purchased, you might get four different product sets perfectly fit for your purpose.
The Design set fully suits for creating webpage designs and styling all kinds of content. It includes 8 powerful plugins.
The E-commerce set will be perfect if you're looking for the products to boost your online store or even build it from scratch. It includes 4 more plugins along with the ones needed for design.
The Multi tool set is the best choice if you're looking for the tools to build a website with the complex structure, custom post types, post relations, and taxonomies, need to add a booking form or want to work with dynamic functionality. The package includes all the plugins for design as well as JetEngine and JetSearch.
The All-Inclusive Package gives access to all Jet Plugins for one year. This set is perfect for creating a structured and website with complex structure.
There's also an all inclusive Lifetime subscription plan that includes all the products available at Crocoblock.
All the plans represented above include a free Kava theme, a set of pre-designed demos and popup templates within JetPopup plugin's library, and come with premium professional support.
Please, note, that with time the list of the plugins and the functionality of the packages will be extended.
Yes, you can use the products from Crocoblock subscription or acquired as separate items to create the websites for end-users.
Please, note, that the terms of using the products from Crocoblock depend on the license type you've acquired.
However, you shouldn't pass your account details or the license keys to any third-parties.
After the subscription license expires the website built with Crocoblock products will keep working. However, it will be impossible to get the updates, use the templates library, access the Downloads directory in your Crocoblock account.
If you won't renew your subscription, you should download and save the latest versions of the plugins from your account.
It's not recommended to make any changes in the ready website you've created with Crocoblock if the license is out of date.
First, make sure you've got enough money on your credit card in order for the system to automatically charge you and prolong the subscription license.
In case there is no money on the credit card, the license won't be prolonged automatically.
You'd have to be aware that if you need to continue working with Crocoblock products, you'd have to prolong the license manually.
Another option is to cancel the existing subscription and purchase the new one and use it.
Yes, you can upgrade a license at Crocoblock by paying only the difference between the price of the license you've got and the price of the license you want to purchase.
If you have any Crocoblock subscription (Design, Multi-Tool, E-Commerce) you can upgrade to All-Inclusive Yearly and Lifetime automatically via your Crocoblock account. If you have a subscription for 1 website (Design, Multi-Tool or E-Commerce) but want to upgrade to unlimited websites, contact Crocoblock support. If you want to upgrade from Design to Multi-Tool, from Design to E-Commerce, or upgrade from Multi-Tool to E-Commerce, contact Crocoblock support. If you have a single plugin and want to upgrade to any other Crocoblock subscription, contact Crocoblock support.