JetEngine. Custom Query Builder for WordPress
Sort and query WooCommerce products, post, terms, users, SQL tables data, comments, REST API items, CCTs and list them up.
Manage Queries via
One-Stop Interface
Forget about scattered widget settings. Query Builder stands for centralized approach, improved site performance & advanced query setup.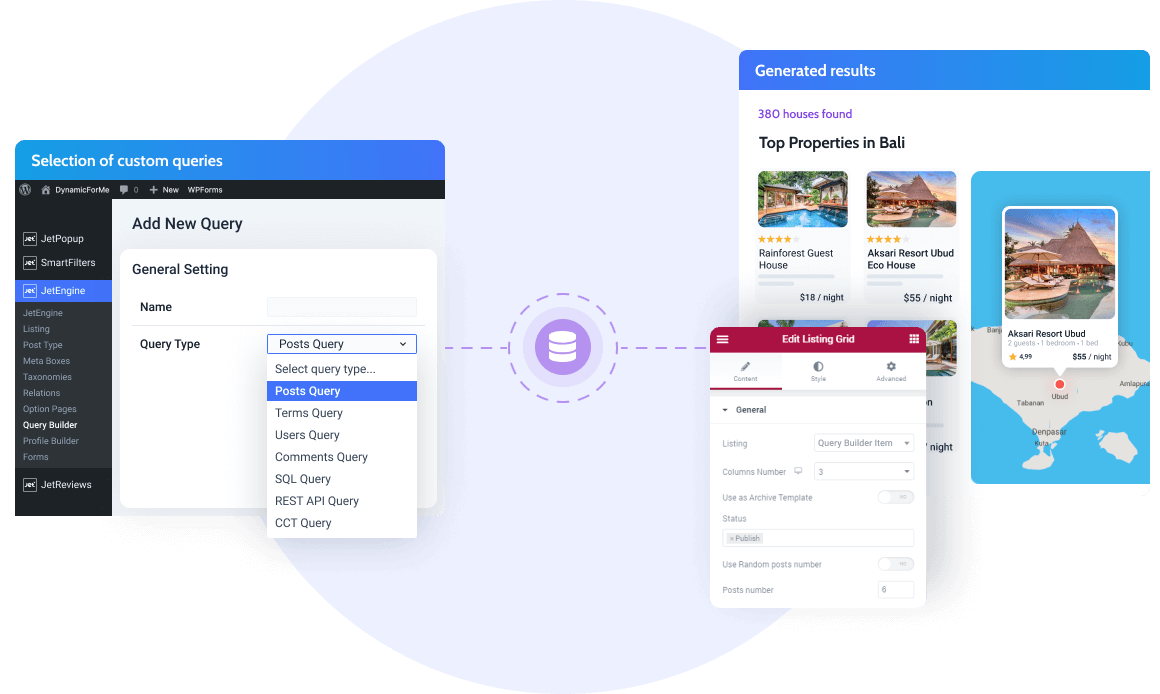 Cached Value Render
16 widgets = 1 render
Dynamic Counter
Add a dynamic tag to the fields to show the results count.
Show/Hide Element
Output content based on the "Query Has Items" condition.
Use Dynamic Data
Embed the needed macros in the Query Builder fields.
Preview Results
See queried results right on the Query Builder settings page.
Query Any & All Data Types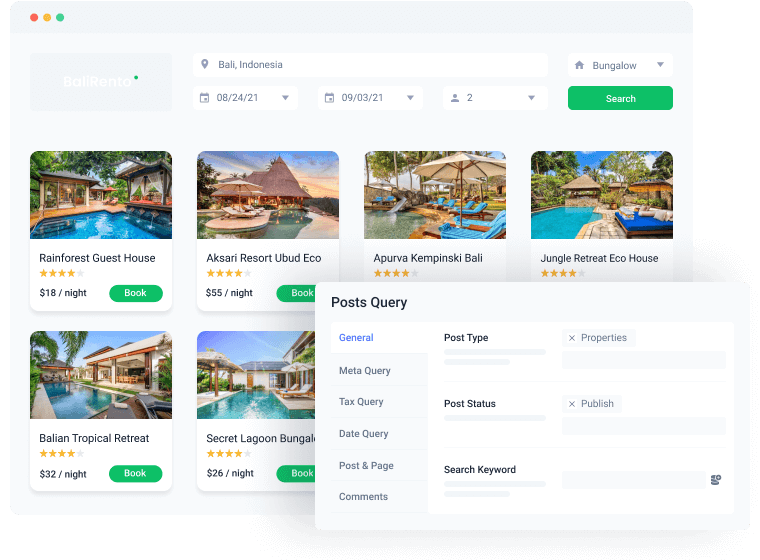 Showcase sorted posts by multiple parameters
Query one or several custom post types at once & display them anywhere site-wide.
Settings:
Query by Post Status and Order by post meta
Use Meta Query to compare given data type values
Query posts by terms and hierarchical taxonomies
Set year, month, day, and comparison operators
Code-free
comparison operators
Total query number
per page
Set Order by
Term and Parameter
Display Query Results


via Elementor or Gutenberg
Benefit by
seamless integration
Query Builder is fully compatible with JetPlugins and WooCommerce allowing you to query any type of data in the listing.
Choose Subscription
30 days money-back guarantee
Custom subscription
Subscription price for 1 website only. For more choose the Unlimited websites in the cart.
17 widgets

included

JetEngine plugin

1-year product updates

1-year of Zoom & Chat support
All-Inclusive subscription
150 widgets

included

20 JetPlugins

1-year product updates

1-year of Zoom & Chat support
Go pricing
For more details on the Subscription proceed to the Pricing page
Find Out More

About Query Builder